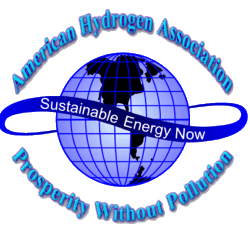 American Hydrogen Association
"Prosperity Without Pollution"
New meeting location - Second Thursdays of every month - 3315 North Scottsdale Road in Scottsdale. It's on the east side between Thomas and Indian School, just south of Osborn. Parking is on three sides. Their meeting room is in the NE corner of the building.
All Donations are TAX-DEDUCTIBLE under IRS 501-(C)-3 as a Non-Profit Organization.
American Hydrogen Association
P.O. Box 4205
Mesa, AZ 85211 USA
(480) 234-5070
Website Problems? Contact Webmaster: webmaster@clean-air.org
(Website last updated April 24th, 2018)
(It's just a matter of time before they add the word "syndrome" after my last name.)